Our Veterinarians
When a family member is under the weather or suffering from discomfort, he deserves the attention of a caring, competent physician with the skills to diagnose his ailment and the compassion to treat him with tenderness.
At Plaza Del Amo Animal Hospital & Pet Keeper, an expert staff of veterinarian doctors and a skilled team of technicians are here to do just that. Under the directorship of our highly skilled veterinary doctors, your pet is always in good hands. We're ready when your pet needs us.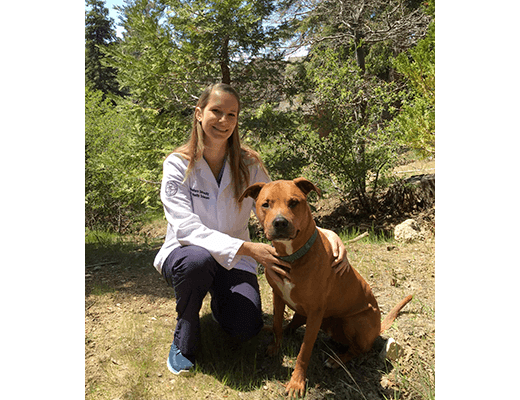 Angela Crudgington, DVM
Dr. Crudgington was born and raised in Farmington, Michigan. In elementary school her parents got her a beagle named "Niki", which sparked her passion for animals. This passion lead to her working at a veterinary hospital throughout high school, until she was accepted at Michigan State University (Go Green!) where she majored in Animal Science. During her time at MSU she worked in numerous laboratories within the department, where she was able to spend time performing blood draws from dairy cattle and even hand raising orphan fawns. She also volunteered as a behavior intern at the local animal shelter and worked with children at an equine rehabilitation center. In 2010 she received her Bachelors of Science and moved to Washington, DC where she worked her way up from a veterinary assistant to hospital manager.
Upon receiving her acceptance to Western University College of Veterinary Medicine, she moved to Southern California. In veterinary school she became the President of the Veterinary Business Management Association and greatly enjoyed studies focused on surgery, behavior, and alternative medicine.
In her free time she enjoys hiking, spending time at the beach, watching Michigan State football, skiing and exploring new places with her large dog "Biggie", who has traveled across the country with her many times. She is very excited to begin her veterinary career at Plaza Del Amo!

Michelle Moeller, DVM
Hometown: Western Iowa native. After college and veterinary school in Ames, Iowa, I spent 9 years in private practice in the Phoenix, Arizona area before moving to the Southbay in 2013.
Education: Iowa State University College of Agriculture – B.S. in Microbiology, Iowa State University College of Veterinary Medicine – Doctor of Veterinary Medicine, and Post-Graduate Small Animal Medicine and Surgery - Internship in Mesa, Arizona
Family: Married with three 4-legged "children". Two kitties, Ripley & Tesla, and a Spaniel Mix, Arizona.
Hobbies: Low-water-use gardening, hiking, running, and exploring the many beautiful sites that Southern California has to offer. Now that I live near the beach, I also aspire to take on surfing as a new hobby.
Favorite Quote: "At the Beach Time You Enjoyed Wasting, Is Not Time Wasted." T.S. Elliot. "Dogs come when they're called; cats take a message and get back to you later." Mary Bly.
Professional Interests: General/Internal Medicine, Dermatology, Behavior, Dentistry, and Preventative Medicine.
Practice Philosophy: I enjoy helping to maintain the amazing bond we share with our pets. My goal is to provide my patients and pet parents with compassionate and quality veterinary care.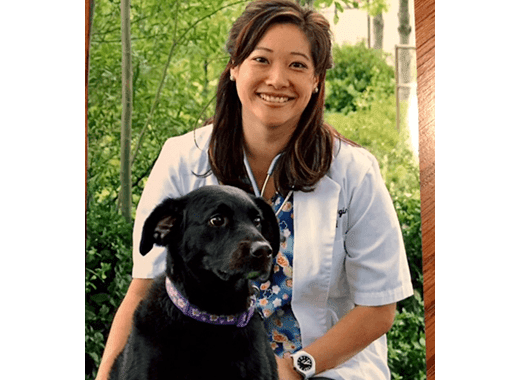 Jennifer Ogino, DVM
Dr. Ogino was born and raised in Honolulu, Hawaii. She attended the University of Hawaii-Manoa and received her B.A. in Zoology, with a minor in History. She went on to receive her veterinary degree at Washington State University College of Veterinary Medicine, where she had quite an experience learning how to live in the snow! After practicing several years at a small animal private practice in Northern California, the sun and surf called her back, and she migrated south to beautiful Torrance.
Dr. Ogino enjoys doing any kind of activity on the water (most especially surfing), hiking wit her dog, traveling, and is an avid reader and baker. Dr. Ogino is owned by her border collie/lab retriever mix Pilikia (=trouble in Hawaiian) and sister kitties Sachi and Sookie. Her professional interests include dermatology, internal medicine, and dentistry. The next goal in her professional career is to become certified in Traditional Chinese Veterinary Medicine.

Lexy Sinnott, DVM
Dr. Sinnott is an LA native, born and raised in South Pasadena. Her early love of animals led her beg her parents for many childhood pets. They appeased her with several guinea pigs, a hamster, multiple turtles, and one very special Shih-Tzu named Gilber. She attended the University of Southern California where she finally decided to become a veterinarian.
Dr. Sinnott attended veterinary school at UC Davis, where she particularly enjoyed courses on cardiology, behavior, and ophthalmology. While not in class, she kept very busy as President of the Veterinary Business Management Association and captain of the vet school intramural ultimate Frisbee team. After achieving her DVM, Dr. Sinnott missed the sushi in Southern California so much that she came straight back and has been here ever since!
In her spare time, Dr. Sinnott enjoys backpacking, hiking, rollerblading, drinking tea, lounging at the beach, and playing ultimate Frisbee. Every fall she clears her weekend schedule to watch Trojan football with friends (Fight on!). She is always on the lookout to adopt her next furry friend, though her favorite animal isn't furry at all - it's a hedgehog!